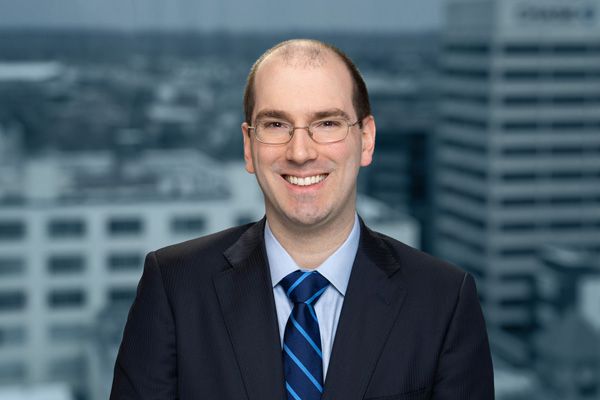 I have read the disclaimer and understand that Lukins & Annis, P.S. is not my legal counsel at this time.
Commercial and Business Litigation
Labor and Employment Advice and Litigation
General Litigation 
Charles Hausberg practices in the areas of litigation and labor and employment law. Selected experience includes matters involving business litigation, contract disputes, real property matters, construction law, the Washington State Public Records Act, alleged employment discrimination, unfair labor practice charges, and labor arbitration.

Charles is an alumnus of the University of Washington School of Law, where he served on the editorial board of the Washington Law Review, assisted with representation of clients for the Innocence Project Northwest, and volunteered for the immigrant Families Advocacy Project. He was a judicial extern for the Honorable Bruce E Heller in King County Superior Court and the Honorable Robert S. Lasnik in U.S. District Court for the Western District of Washington. Charles began his career in the Seattle office of Garvey Schubert Barer. 
State of Washington
United States District Court for the Eastern District of Washington
United States District Court for the Western District of Washington 
Cornell University, B.A., Government, cum laude, with distinction in all subjects, 2007
University of Pennsylvania, M.A., History of Art, 2009
University of Washington School of Law, J.D., 2015

– high honors

– Order of the Coif 
ASK THE LUKINS & ANNIS LEGAL PROFESSIONAL:
Q: What steps can I take to minimize risk and uncertainty if I end up in a construction dispute?
A: Attention to certain basic aspects of a construction project can save you time, money, and frustration in the long run. For example:
1. Document everything as it happens, including negotiations, meetings, daily work progress, and costs. Take frequent pictures of the work. Documentation can be time-consuming and is often neglected, but is very important if a dispute occurs.
2. Know the project and your role in it. While projects are often given labels like "design-bid-build" or "design-build", these are terms of convenience. Be comfortable and familiar with the specific details of your responsibilities.
3. Negotiate the contract carefully. Avoid unclear terms. Pay close attention to provisions concerning: the scope of your responsibilities; change orders; notice and claims procedure; dispute resolution; and prevailing party attorneys' fees.
34. Once you have agreed to a contract, consult it and abide by its terms. This list of basic tips is certainly not exhaustive. The attorneys at Lukins & Annis are able to assist with legal matters concerning construction projects, from contract negotiation to dispute resolution.
–
Charles Hausberg is an attorney at the law firm of Lukins & Annis, where his practice includes Commercial and Business Litigation, Labor and Employment Advice and Litigation, and General Litigation.
Published in the July 20, 2017 issue of the Spokane Journal of Business.