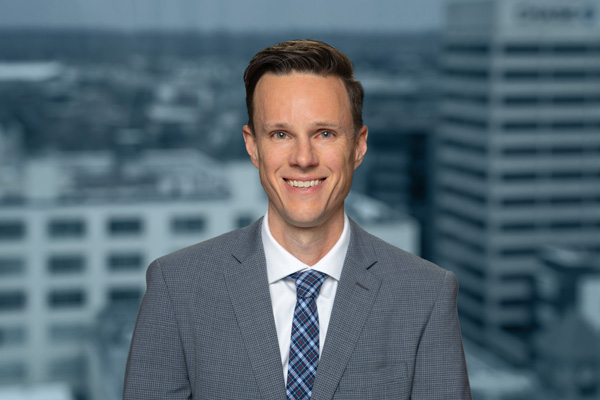 I have read the disclaimer and understand that Lukins & Annis, P.S. is not my legal counsel at this time.
Commercial Litigation

Foreclosures
Lender Liability Claims
Deficiency Actions
Claim and Delivery
Breach of Contract
Creditor representation in bankruptcy

Construction Law

Mechanic's Lien
Construction
Defect Claims
Professional Negligence Claims

Civil Litigation
Real Property

Easements
Title insurance claims
Conveyances and loan documentation

Criminal Defense
Appeals

State, federal and administrative
Jonathon ("J.D.") Hallin is an attorney in the Coeur d'Alene office of Lukins & Annis, P.S. His practice includes commercial law, criminal defense and general litigation.
J.D.'s practice includes a diverse mix of businesses and individuals. This includes frequent representation of commercial lenders in litigation and transactional matters. In addition to handling business litigation, he also assist his business clients with contract drafting and negotiation, employment related issues, and transaction documentation. Finally, J.D. regularly represents homeowners, contractors, and design professionals in construction related matters.
J.D. has extensive experience defending criminal matters at both the state and federal level. For the last 11 years, he has been a member of the Criminal Justice Act for the District of Idaho. J.D. has tried matters before all levels of the Idaho state and federal trial courts. Additionally, he has handled argued criminal appeals before the Idaho Court of Appeals, Idaho Supreme Court and Ninth Circuit.
State of Idaho
United States District Court, District of Idaho
United States Court of Appeals, Ninth Circuit
Coeur d'Alene Tribal Court
University of Idaho, College of Law, J.D., 2005
University of Portland, B.S., Civil Engineering, 2002